This year's peach season
"When is peach season going to start?!" We always know it's almost summertime when everyone is asking this question. Normally by this time of year we would already have the answer and we would have excitedly passed that news along to you. However, this is going to be a very different and challenging peach season.
We never like to give bad news for one of our seasons, but especially not about peaches. Our annual trips throughout the Midwest with Georgia peaches have grown beyond what we ever could have imagined. And this is because of you! We can't stress enough how amazing the response has been through the years. We now bring almost as many individual peaches in a season as there are people living in Wisconsin!
Every summer since 1994, we've brought these incredible peaches because they're the best we could find. You just can't beat a Georgia peach. It has become such a part of our lives, we live for peach season. It is intense, but we deeply love peach season and interacting with all of you.
We say we bring peaches every summer, however, in our history we've experienced 2 seasons where we lost our peach season due to weather conditions. In 1996 and 2007 we experienced near total losses because of late season freezes, and were unable to have a peach season. We remember these years extremely well, a constant reminder that some things are outside of our control.
This season will be unlike any season we have faced, maybe ever. There will be some peaches, but not many. Not everyone will have the opportunity to purchase peaches, and prices will definitely be higher than past years. We expect this to be a temporary surge in pricing this season with a return to normal pricing when we again have an ample supply.
What factors have brought us to the situation we are in?
Temperature, frost, moisture, soil condition, and many more factors influence what kind of harvest we will have each year. For instance, if we have a frost on a peach blossom, the flower will fall and we won't have a peach. This leads to many restless nights each spring for everyone involved in growing peaches, nervously watching the temperatures. After the extraordinary amount of work in preparing the peach trees for another season, our farmers can only watch the weather helplessly each spring. In fact, in 2015 and 2016 we had late spring freezes. And in both years we narrowly, by literally a degree or two, missed devastating freezes that would have destroyed nearly 100% of our crop. This March, we had yet another freeze. This one was substantially worse, reaching temperatures as low as 21 degrees throughout the Southeast.
In South Carolina, where nearly every peach tree was blossoming, the result was catastrophic. Nearly the entire crop was wiped out. In Georgia, our trees were not as far along in the growth process and it appeared that we had survived the freeze without major losses. The reason we were further behind was because we did not have enough of what is referred to as "chill hours".
What are "chill hours", and why do they matter?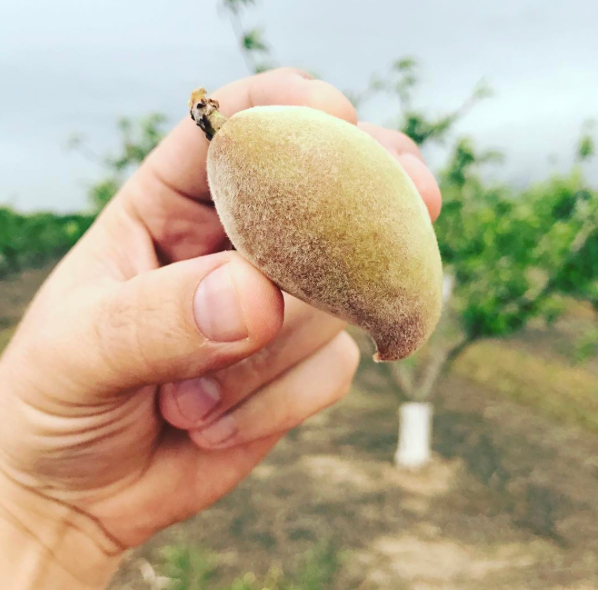 A misshapen peach, due to a lack of "chill hours".
This is where it all begins for a peach. Simply put, "chill hours" are the number of hours below 45 degrees over the course of the winter. This is critical for the trees, as this dormant period helps to protect the tree and regulate its growth. Most varieties of Southern peaches require 800-1000 "chill hours". In 2015/16, we had the warmest winter in Georgia in over a decade. We ended the winter with between 700-800 "chill hours". This past winter, we only managed 550-600 "chill hours". This is historically bad.
When a peach tree doesn't receive enough "chill hours", it causes many problems. First and foremost, the buds may never open up. This is what we are seeing in later freestone varieties, the peaches we would be harvesting in mid-July through the end of our season. Those varieties have been completely lost. The blossom can be sporadic, pits can be deformed or split, the peach can be misshapen, and the tree might not have the important leaf growth needed to protect itself from the blazing Georgia sun. In other words, most of the peaches just won't make it this season.
What does this mean for peach lovers this summer?
The fact is, there just will not be many southern peaches this season. Consider that between South Carolina and Georgia, we may lose more than 200,000,000 pounds of peaches. It is staggering to contemplate. We were presented with only two options. We could have cancelled our peach season completely or proceeded with our season without knowing if we'd even have peaches at all. While neither option was appealing, we chose the latter option. We would rather give you the possibility of getting peaches rather than no chance at all.
We'd like to think it isn't all bad news, however. There will be some peaches, and whatever is available will be coming to Wisconsin. We are thankful to have such a strong connection with Pearson Farm, we truly feel we're an extension of their farm. They will scrap and claw to get every single peach possible. They have put everything into growing these peaches, and we'll bring whatever is available. We will be providing an update each day during peach season on our Facebook page and we ask that you please check there to find out what is available before making your trip to our trucks. We have a small support staff in our office so we ask that you only call if absolutely necessary. All pertinent information will be posted on our website and Facebook page.
We'd like to think we can embrace this peach season for what it is. We take the good seasons with the difficult ones. Every peach this year isn't going to be perfect, no doubt about it. Yet, there is something so unique and wonderful about a peach that we just have to enjoy it while we can. And we will be bringing Michigan blueberries this summer to all of our locations.
We just will not know how many peaches will be available until picking begins. We ask that you bear with us this summer. We appreciate everyone's understanding and patience given the circumstances. Please feel free to leave a comment or ask a question below. We'll give you an update as soon as we know!